Safetyfall, Wetpour contractors EPDM,rubber playground safety surfacing
Definition
A 'wetpour' surface is a blended mix of rubber granules bound together, having been manufactured/ mixed on site and laid on an existing suitable, or specially prepared bases to provide a continuous surface free of seams or joints.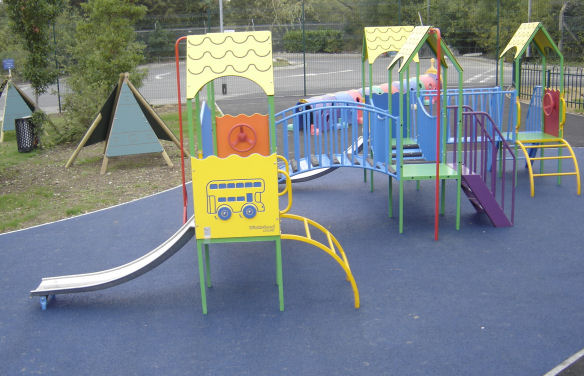 Advantages
Available in many colours
Can be laid over existing contours
Can be engineered to create mounds to sculpture the play area
Requires the minimum depth of rubber to meet critical fall height requirements when laid on a stone base
Porous for good drainage
All materials are guaranteed for 12 months
Specifications
The systems consist of a variable depth bulk layer of black rubber topped with 15mm nominal thickness of bound rubber crumb.
There are a wide variety of colours to choose from including multi coloured ("hundreds and thousands"). Also available are custom designed
inlaid patterns to suit all our customer requirements.
Concrete
MOT Stone
Depth
CFH
Depth
CFH
35mm
1.40m
35mm
2.80m
45mm
1.45m
45mm
2.90m
55mm
1.65m
55mm
in excess of 3.00m
65mm
1.65m
75mm
2.35m
90mm
2.75m
100mm
3.00m
* The figures obtained have been rounded down to the lowest, nearest 0.05m
Critical Fall Height
Determination of Critical Fall Height (CFH) is determined by a series of impacts being conducted in accordance with the requirements of the Head Injury Criterion (HIC) method.
HIC values are obtained from tests involving a hemispherical mass free-falling over a range of increasing drop heights
The Critical Fall Height (CFH) tests are conducted on various depths of wetpour safety surfacing in accordance with the requirements of BS EN117:1998 (Impact absorbing playground surfacing – safety requirements & test methods.
The results indicate that the impact absorbing safety surfaces achieve the following CFH values when tested on two different sub-bases (Concrete & MOT Stone).
Safetyfall, Wetpour contractors EPDM,rubber playground safety surfacing Safetyfall a London Surfacing safetyfall. Childrens Playgrounds, Impact absorbing as used by http://www.londonsurfacing.co.uk